Support Area
Frequently Asked Questions
In order to organize some of the information and questions you may have, we have developed this section of the site to aid you in your search for knowledge.
Product Questions
Company Questions
What is the technical specs of your bearings?
Avid Racing Concepts Halo series bearings.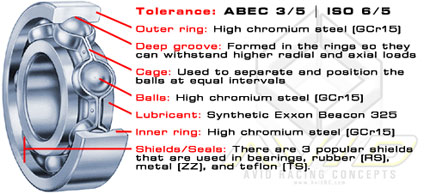 Does ABEC rating mean everything?
In some industries the answer is yes, but in RC it definately is not. Due to the tight tolerances of an ABEC7/ISO4 bearing, testing has revealed that normal amounts of dust destroy the bearing quicky when entering the tight grooves of the bearing. Our testing has proven that with our manufacturer, ABEC3/5's provide the best performance per cost value.
What shield/seal is right for you?
Seals are not that tricky of a thing to understand. Rubber seals offer the most protection from debris entering the bearing but at the cost of a little friction from the rubber seal touching the races under loaded activities. Teflon provides the least amount of friction with great protection but teflon seals are known to be touchy animals while under load, they have a tendency to pop off. Metal shields are your most common variety of shield offered in the bearing market by providing decent protection and low friction.
Revolution (RSZ): Avid invented this seal make up in 2003 to offer the best of both worlds. There is a rubber seal on one side of the bearing and metal on the other. A rubber seal offers great dust/dirt/water protection but at the price of added friction. Where as metal offers almost no friction but will allow water and dust to get in over time once the grease has spread out. Since most cars have enclosed hubs and diffs, there is no reason to have the rubber seal inside the hub or diff since no dust, dirt, or water can get to it. But you still have the protection from the dirt not entering from the outside because it is sealed with the rubber seal.
Metal (ZZ): Suggested use of metal is on high temperature areas such as clutches or on tracks that are always well maintained with light watering in-between rounds or onroad vehicles that drive on clean surfaces.
Rubber (RS): They are becoming the more popular bearing among avid rc enthusiasts because they require the least maintenance to keep up to speed. In 1/8th scale clutches the rubber seal is not harmed if your clutch is setup correctly. We suggest that you use these on dusty or wet/muddy tracks because of their protection. The amount of resistance created by rubber is only slightly noticable in our uses so this is another reason of their rising popularity. Because they block dirt from getting in they also keep the grease from getting out.
Teflon (TS): These are hardly seen anymore and honestly we don't suggest wasting your money on them but if you do we suggest you use teflon inside of enclosed areas such as transmissions. They provide the least amount of resistance but best used in non-loaded situations.
How do I clean my bearings?
If you are wanting to prep a bearing for its first use, please click here.
Now if you have a bearing that has already been run then this is what we suggest for any bearing not being used in a very high spinning enviroment such as a clutch. If you are wanting to clean gritty clutch bearings, than you are better off replacing them, the cleaning and re-oiling will only hide the already pitted interior of the race and will never feel like it did. But if you have some rubber sealed bearings than it is cake, click here to see step by step instructions on keeping them up. If you have metal/teflon seals you will have to remove a small retaining C clip that is against the outer ring of the bearing with an exacto (be careful and make sure the clip doesn't fly away).
What should I use to lube my bearings?
There is honestly nothing better on the market that we have found as far as bearing oil other than our SLIP oil or SLIDE grease. However if you are in a jam and willing to sacrifice a hair of performance for longevity of protection you can use 10w30 Mobil 1 car oil. The oil is highly engineered and designed for high temperature situations, and a quart will last you your lifetime in RC.
What is the best method for insuring the life of a bearing?
There are a couple of suggestions here depending on the particular bearing in question.
Clutch Bearing: Due to the sensitive nature of clutches, we suggest that you blast your metal clutch bearings with compressed air while the shields are still on the bearing. The majority of grease will come out on the other side around the inner ring. This will allow for a protective layer of grease in case dust is an issue. You will also benefit from this method because your bearing will lubricated well by the remaining grease in the bearing, but it won't be enough grease to be flung out on your first run causing the clutch to slip and bearings to burn up and change to a pretty color like blue or purple. If you choose not to do this, than we suggest that after your first run (make it no more than 5 minutes), take your clutch bell off and wipe it down to remove the excess of grease that was flung out of the bearing. You should be ready to go for longer than you are used to after doing this. Now remember, it isn't necessary to do this but if you are Avid about being perfect, than by all means.
Wheel/Hub Bearing: The best choice with these is to leave them suckers alone. We only suggest you replace the grease with oil if you are looking for the most prime performance by the cost of wasting bearings fast. If you leave the grease in the bearing, it acts as a second barrier to protecting the inner race and balls from debris.
What can cause a clutch to eat bearings?
We have put together a 12 step program to ensure the longevity of your bearings. This will allow you to get the most bang for your buck.
Mesh is too loose
Endplay is too much or too little, needs to be 0.4mm, and use a washer on the outside or a Kyosho blue bevel thing.
Motor bearings are getting old, have a little play
Crank shaft is slightly bent, usually not noticeable by the eye.
Leaving too much grease in them, causing clutch slippage and overheating
Motor that is not fully tightened to the blocks or screws missing from the bottom holding the blocks
Trying to run a Kyosho bell on a mugen car without grinding the chassis.
Running a car with no rear chassis stiffener or screw falls out
Clutch bell and center diff gears should be getting the maximum amount of teeth contact on each other, seen people set them up with only a 1/4 of teeth touching each other or not at a perfect 90 degree angle..
Worn out clutch shoes that allow the clutch to slip more than it should, excessive heat.
Crankshaft nut backing off and causing the clutch to get tight
Spacing the clutch bell too close to the flywheel, should never be able to touch.
Does Avid RC offer a warranty/guarantee?
You bet, we stand behind our product and want you to feel satisfied with your order. If you are not pleased with the product sold to you, than you may return the product in 30 days and get your money back!
Why do I see multiple charges on my credit card?
This happens if your card was declined the first time around, for address mismatch, 3 digit code mismatch, or something else along those lines. What happens is that your credit card company puts those funds on hold for a few business days incase we decide to claim the funds. Our system is designed to delete all declined charges at the closing of that day at 12am. So we never request the funds and your credit card will release the hold automatically. This is a very common practice and quite frankly I don't understand why it is there, but it is a pain we have to deal with and do apologize for the inconvience.
Does Avid RC offer any sponsorships?
Yes we do, but we do not honor requests. If you email us in regards to this you will be emailed a link to this portion of the page and nothing else in the email. Sorry but with the desire of every racer to be sponsored, we don't have the time or money to dedicate this. We will find you if you are something we are looking for.
Does Avid RC take phone orders?
No we do not. Our system is setup for online purchasing only and it allows us to mainstream delivery and paperwork. If you don't have access to a computer, then have a friend order them for you, goto a library, internet cafe, or even kinkos. We accept credit cards, paypal, and even money orders, so we have you covered.
May I suggest advice to AvidRC anonymously?
Please do, we are always wanting to hear what our customers have to say, so we have created an anonymous area on the contact us page so you may do such a thing. However, if you are not shy, please use our full contact form so we know who you are.
What method of shipping do you use & timeframe?
We ship with USPS and always send with delivery confirmation to make sure we know what is going on during a problem. Orders go out no latter than 2 business days after the order, however this is only a disclaimer, 9 out of 10 times it goes out the same day and arrive anywhere in the US in 2-3 business days.
What is the price of international shipping?
Shipping costs vary from $3 - $27 because we use several shipping classes by USPS ranging from First Class (no tracking) to Express Global (tracking number).
You may always get a real-time quote by taking the first steps of placing an order and the screen before you confirm it, it will give you the quote on the shipping. Our product is top notch and has won almost every National level race in the United States.
What is the best way to contact us?
Since we are a web-based company, the best way is always by email. It allows us to have a digital paper trail so to speak to keep track of contact. However we are aware that there is sometimes no better substitute for good ole person to person. We don't always answer the phone though so don't be shy to leave message.