B44.2 Aluminum Center Cap, Triad TLR Aluminum Topshaft, Aluminum Ballstud Washers, and more to come!
Jun 03 2013
We have so many new products to release so your summer will be filled all sorts of new Avid goodies. The most recent additions are as follows.
---
The AVID B44.2 Aluminum Center Cap is a fresh take on the design which keeps your chassis secure and makes the car easier to work on. The AVID design eliminates 4 screws for the original cap and instead directly links the front and rear upper decks with taper mounts that key into the upper decks. The added benefit of this design is that maintenance is simplified, when you only remove 4 screws and the entire upper deck assembly is loose for easy slipper clutch removal.
Specifications
Laser Etched Black Aluminum with silver chamfer.
Taper mounting bosses to key into front and rear upper deck.
4 screw mounting makes slipper removal extra easy with both upper decks disconnected.
Fits any Associated B44.2 (carbon fiber or AVID aluminum chassis).
Includes B44.2 Aluminum Center Cap, 4 x 7/16" Flat Head Mount Screws, and AVID decal.
http://avidrc.com/product/5/accessories/587/B442-Aluminum-Center-Cap-AV1044-442-CAP-accessories.html
---
Whether you run a TLR slipper or the AVID Triad, racers everywhere will be upgrading their TLR 22, 22T, and 22 SCT to eliminate the special "mini" kit slipper nut and use a standard 5.5 mm hex driver to set the slipper clutch. The AV1020-TOP-TLR22 was born partly for necessity, partly for convenience, and we think racers will appreciate this upgrade as they can go back to using a standard slipper nut. Many Triad customers had issues with TLR topshafts which fluctuated in length and did not allow for proper spring tension on the slipper clutch....a problem no more!
Specifications
7075 Aluminum, CNC Machined and Hard Anodized
Works with TLR kit slipper clutch and AVID Triad Slipper Clutch
Both slipper clutches use a standard 5.5mm hex nut (included) and standard wrench for slipper adjustment!
Topshaft bag includes: 5.5mm nylon locking nut , Topshaft crush tube and TLR kit spring adapter.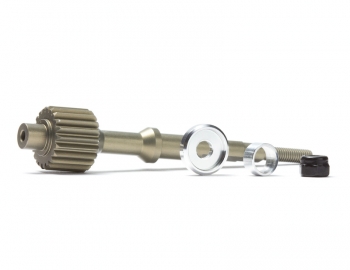 http://avidrc.com/product/5/accessories/585/Triad-TLR-Aluminum-Topshaft-AV1020-TOP-TLR22-accessories.html
---
Aluminum Ballstud Washer Set | 12 pc.: Available now $9.00
AVID makes your life better (and your ride cooler) once again with our fresh approach on a traditional aluminum ballstud washer by introducing a staggered outer diameter so you can easily tell what thickness of a washer you are running. As the washers grow in thickness, the outside diameter grows in steps of 0.5mm. Replace the plastic washers that come in your kit with these precision machined aluminum washers which won't crush and change thickness when clamped.
Specifications
Black Anodized Aluminum, fits 4-40 and M3 ballstuds
Staggered Outside Diameter Sizing for easy identification of thickness when stacked together.

Large OD = 2.0mm thick
Medium OD= 1.0 mm thick
Small OD = 0.5 mm thick

Fits Associated, Team Losi Racing, Kyosho, Durango, and other popular brand 10th scale cars/trucks
Set includes 12 pcs, 4 of each thickness (2.0, 1.0, and 0.5mm) and AVID decal.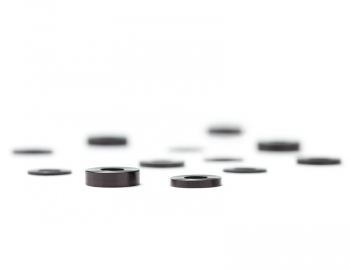 http://avidrc.com/product/5/accessories/586/Aluminum-Ballstud-Washer-Set-12-pc-AV1023-SET-accessories.html